Recent Exhibition Stand Projects
Hear From Our Satisfied Clients
EXCITING CUSTOM
EXHIBITION STANDS
Designs That Attract More Visitors
As a leading exhibition stand design and build company, we understand that your exhibition stand is a key investment, essential to attracting new business. Our expert exhibition stand builders take the time to understand your ideas and business needs, so that we can turn your requirements into reality. Our exhibition stands are high-quality, attractive and durable. Ready to be used again and again they are totally reliable and will stand the test of time. That's why we're rated so highly for exceptional quality of service when it comes to custom exhibition stand design and build.
With 35 years of experience in bespoke stand design and build, Plus Exhibition is one of the UK's leading exhibition stand suppliers with dedicated contractors for events and conferences. Our flexible services are sure to meet your needs and budget, whether you're going to a one-off event, or are in need of an exhibition stand that you can hire for regular use. Our friendly experts pride themselves on providing you with exceptional creative exhibition stand design and project management services. All you have to do is approve your artwork and then leave the rest to us. We create and build your exhibition stand, transport it, install it, set it up, pack it down and store it away.
We are able to provide you with furniture and tech, including AV equipment. Whether you want a simple exhibition stand setup or a more complex all singing all dancing exhibition stand design and build setup with fully integrated audio visual walling/flooring, or even a full virtual reality package to take your exhibition stand visitors to the a whole other world! We have the expert exhibition stand design and build knowledge to allow you to sit back, relax and enjoy the whole process! Call us today to discuss your next exhibition stand design. 01782 264110.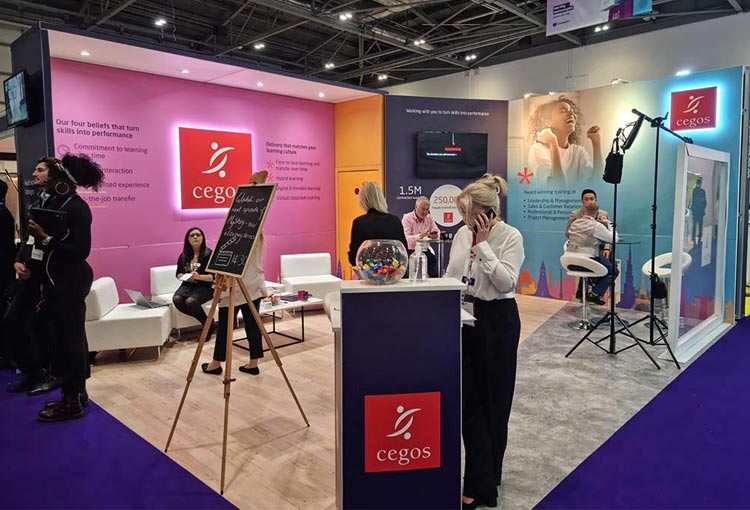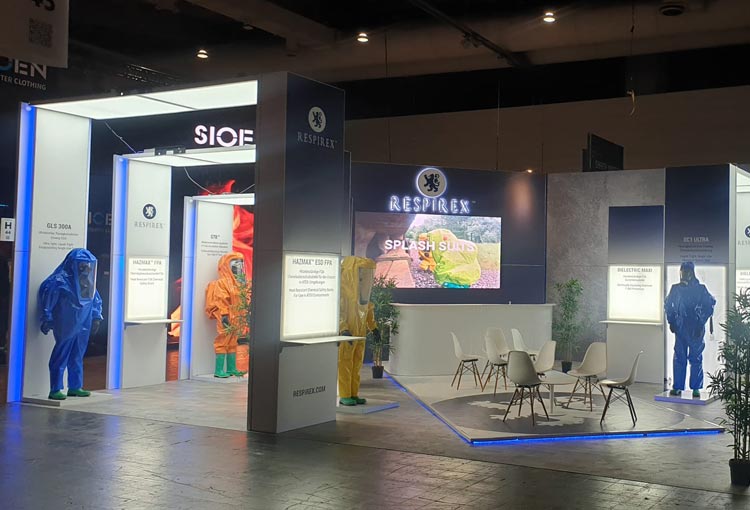 FREE Friendly Expert Advice
FREE 3D Visual of Your Stand
FREE Personalised Quote
What Our Happy Clients Say
We've worked with a range of brands to create unique designs that do all the heavy lifting at your exhibition, so all that's left for you to do is provide a welcoming smile to the visitors inevitably flocking to your stand. Our clients include small start ups as well as multinationals such as Sainsbury's, Google, Specsavers and Apple.
Here's what our clients say about us:

Norkem
The stand was very well received and we got a lot of positive feedback which was great news. The director of ChemUK voted it the best stand of the show which we were incredibly pleased to hear so please pass on our thanks to all involved.

Pink Key Licensing
An excellent experience from start to finish! The stand really was fantastic and really exceeded our expectations. Great support from Rachel and Gemma during the run up to to the show and then the build team on the day were brilliant. The stand was perfect! In particular, this year, the light box stood out. This is our third year of working with you guys and we will definitely be back next year.  A special mention for Rachel who was an absolute pleasure to deal with.

Oemeta
Great stand design, communication, and support throughout the exhibition process, even when the exhibition was postponed several times due to the pandemic. Our project managers Storm and Olivia were always friendly and helpful. The stand looked great and we had lots of positive comments on it (in addition to the car). Thanks for all your help, we will be in touch about our next shows!

Dizzy Height Solutions
They are the experts in their field, they have everything covered so you know that when you turn up at the exhibition there will be no surprises. From the intial drawings we could see what the stand would look like from all angles so when complete it was just want we expected So calm and in control of all the elements that have to be taken care of with the exhibition venue and with the design and production. Took the stress out of all that side of the pre-show organisation. Very happy with the full service of Plus and great that we can reuse and update elements for the stand for the future.
Our Exhibition Stand Services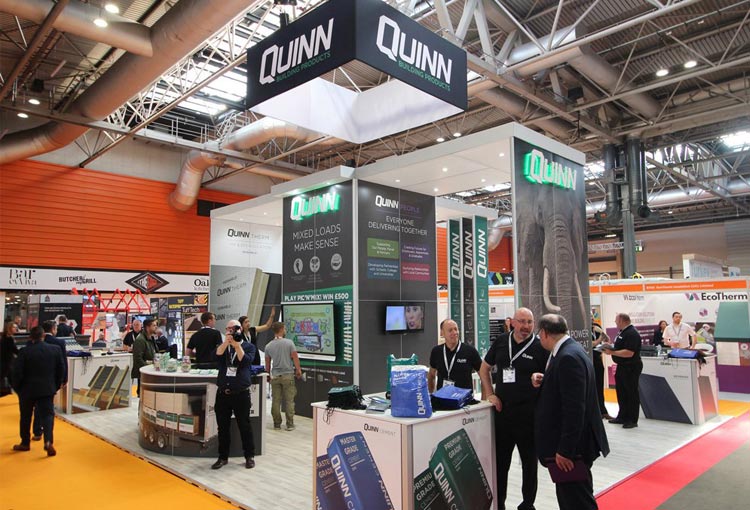 Pricing Guide
We can provide you with a rough price over the phone when you fill in our simple quotation form, or you can take advantage of our free 10-minute consultative phone call. We can then provide a free 3D render of your proposed stand and supply an in-depth no obligation quotation video. The exact cost of your stand will depend on the setup, and whether you choose to hire a stand on an ongoing basis or commission a self-build stand for reuse and storage.
Standard Packages
Our standard packages include every element you need to for a complete display, from professional installation and breakdown to the hardware, custom graphics, lighting and flooring. You won't have to worry about a thing; one of our experienced project managers will be on hand to take care of everything, including the necessary health and safety documentation and admin.
FREE Friendly Expert Advice
FREE 3D Visual of Your Stand
FREE Personalised Quote
Most Popular Exhibition Stand Questions Answered
Can you help me attract more visitors to my stand?
Plus Exhibition offers a bespoke, reconfigurable solution that's eye-catching, attractive and sure to draw more visitors to your stand. Our talented in-house design and production team have created stunning designs for a wide range of clients, including Sainsbury's, Sage, Google, Specsavers, Apple and Barbour. We know how to create exhibition stands that grab the attention and curiosity of event-goers, so that you can maximise your RoI.
Can I see what the stand looks like before I purchase anything?
We provide a no-obligation, 3D rendered visual of what your exhibition stand will look like before you place an order. It takes about 3-5 days for us to create your 3D rendered visual following our initial 10-minute consultation call with you. We will work with you to tweak the design and ensure that it meets all of your requirements, then it's up to you whether you go ahead with ordering.
I'm really busy, can you manage the whole process for me?
When you opt for our free hire project managed service we look after all the details, from start to finish. Our talented in-house team will take care of everything, from design to production, health and safety documentation, build and dismantling of your exhibition stand. We'll even store it for you, completely free of charge, until the next time you need it. The best part is, our free hire service is often 35-50% less expensive, even though we plan and do everything, keeping you informed every step of the way.
Can I have peace of mind and know that everything will be perfect on the day?
Absolutely. We pre-build every stand here at our factory. This prevents any snags from occurring during the build process, something that often happens at other companies who leave it until the day of the event to build hardware. All the details are ironed out before the day of your event, and you are welcome to visit us and see your stand in production. Our expert project managers and creative designers are exceptionally skilled in ensuring that your finished exhibition stand is perfect for the event you're attending. We supply artwork for you to approve, with a complimentary round of amends and a final 3D render for you to sign off before production. We will also take care of all the paperwork, including health and safety and electrics.
Can I reuse the same stand in different spaces to save money?
Yes, you can reuse the same stand over and over, saving approximately 75% on the cost of subsequent shows. We enable you to do this by being clever with the graphic design and exhibition stand design, the stands can be reconfigured to use at other events in your calendar. The design of our exhibition stands has no visible poles, feet or connectors, so your graphics flow seamlessly.
Can I pack the stand down so that it takes up minimal storage space, and is it economical to ship?
All our bespoke exhibition stands are designed to be as convenient to pack down and transport as possible, and our system breaks down to less than 5% of its built volume. It takes up very little space and is relatively cheap to ship. If you use our ship, build and dismantle service, we will store your exhibition stand for you, completely free of charge.
How much does it cost to purchase my exhibition stand from Plus Exhibition?
Budgets for stands range from £3,500 to £50,000+, depending on size, complexity, audio visual, flooring and other design considerations. Typically a 15 sqm stand would range between £4,000-£7,000. Alternatively, you can take advantage of our free hire plan and save up to 75% on the cost of subsequent shows.
Why Choose Plus Exhibition?
Free 3D visual of your stand, no commitment to use us
Friendly 10 min initial phone call, to discuss your specific requirements
Free full quote video, talking you through your proposed stand step-by-step
All exhibition stands are pre-built at our factory before the day of your event, so that you can view the hardware and to avoid any last minute hitches at the show build
Exceptional project management and creative design service
Recurring hire service lets you save up to 67% on the cost of exhibiting at subsequent shows
We store your exhibition stand for you, completely free of charge
9.3/10 Trustpilot score for exceptional quality of service
Read Our Blog
Get hints and tips on how to turn your next exhibition into the most successful one yet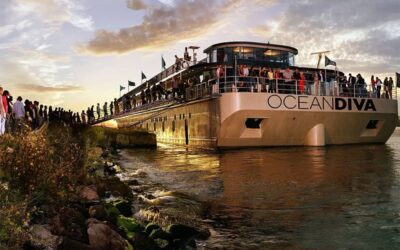 The Launch of the Stunning Oceandiva London Are you ready for a game-changing new events venue in London? Launching in autumn 2022, Oceandiva London is about to make waves as the UK's first water-based venue that's completely carbon neutral. Floating events venues are...
read more