LED Video Wall
Exhibition
Stands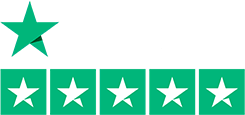 Get your free, no obligation quote with 3D visual
What Are LED Video Wall Exhibition Stands?
Audio-visual display stands integrate the most up-to-date and advanced technologies, offering a more engaging and creative approach to custom exhibition stand design. Thanks to modern technology, there is a vast range of options available to suit your particular needs. Whether you want a multimedia display to promote your products or services, an advanced audio system to attract as much attention as possible at events, or a unique and creative lighting option to increase engagement and appeal, audio-visual display stands give you everything you need!
What Are the Advantages of LED Video Wall Exhibition Stands?
Maximum Engagement
No matter what your goals are for an event, achieving them will be an uphill battle if you fail to engage your target audience. Audio-visual display stands offer maximum engagement by appealing to the eyes and ears of everyone who stumbles upon them. LED video wall designs provide the perfect way to promote your brand, whether you opt for eye-catching graphics, bright colourful displays, interactive features or other visual feats.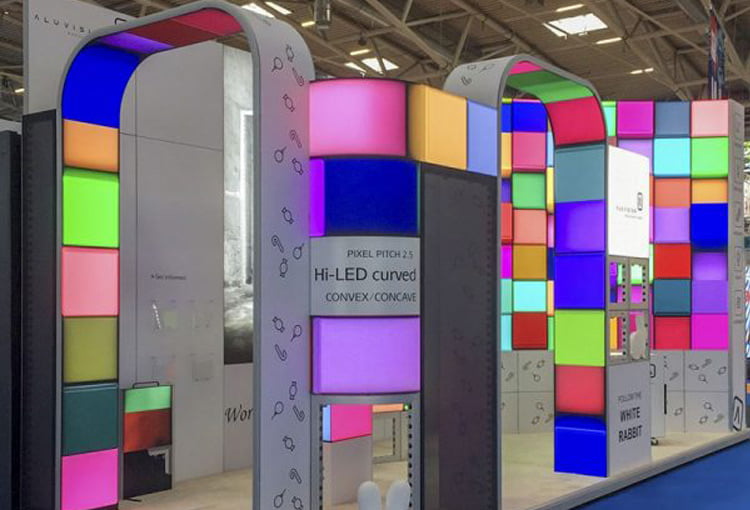 Innovative Design
In the digital age, technology has revolutionised near-all industries and, in the process, made every sector more competitive than ever. It's never been more essential for today's brands to offer something unique and creative — and that's exactly what you get with audio-visual displays. With video walls being available flat, curved, on the floor, edge to edge and around corners, our LED video walls are as advanced as it gets when it comes to creative LED video wall design. If you're looking to create an unconventional exhibition stand design with tech-based features, our experts can help you to achieve your vision today!
Endless Layout Options
While there's no doubt that the aesthetic design of your stand is vital, it would be a huge mistake to neglect the importance of an effective layout. You can use a vast array of components to craft audio-visual stand layouts that look amazing and are accessible for all visitors. LED wall tiles are available in flat, edged, curved, corner and floor variations, giving you the freedom to design an incredible audio-visual display stand without restrictions.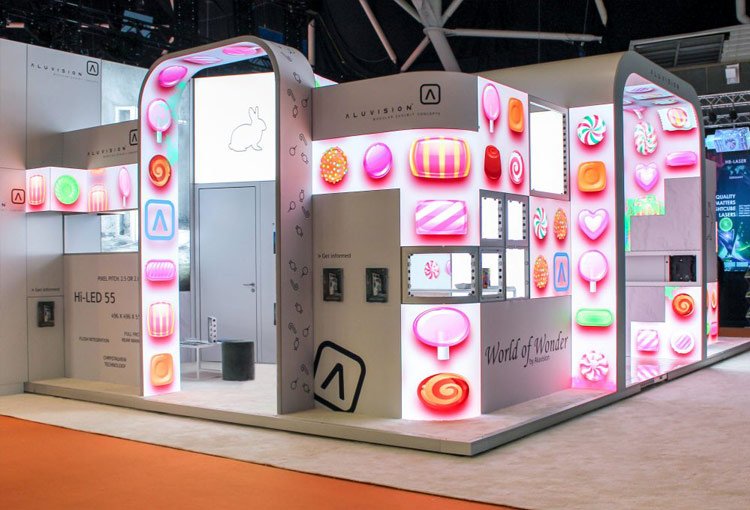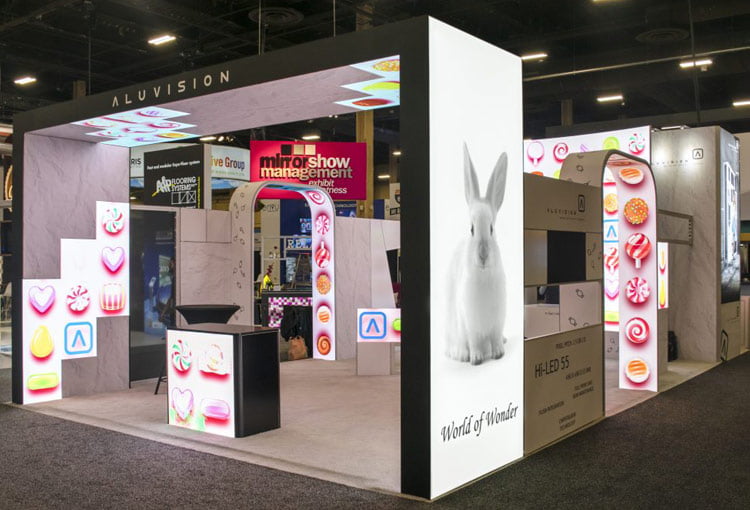 Interactive Features
If you attract the attention of passersby at an event, great! — but you've only won half the battle. To achieve your goals or properly interact with potential customers, you need to maintain their interest. Interactive features are perfect for giving people something to see and touch (think monitors and touch screens). Audio-visual exhibition stands allow you to create the perfect environment that suits the needs of your audience, significantly increasing your chances of success.
Brand Image
In the modern business world, companies need to establish themselves as a brand and an authority in their chosen industry. We live in an era when technology is a crucial aspect of everyday life — one that massively appeals to the modern consumer, so it only makes sense to incorporate technology into your exhibition stand. Audio-visual display stands are fantastic for brand image, as they demonstrate that you're a business that embraces the most modern forms of technology and media. Not only that, but adopting such a unique design and concept will make more brand a lot more memorable than your competitors.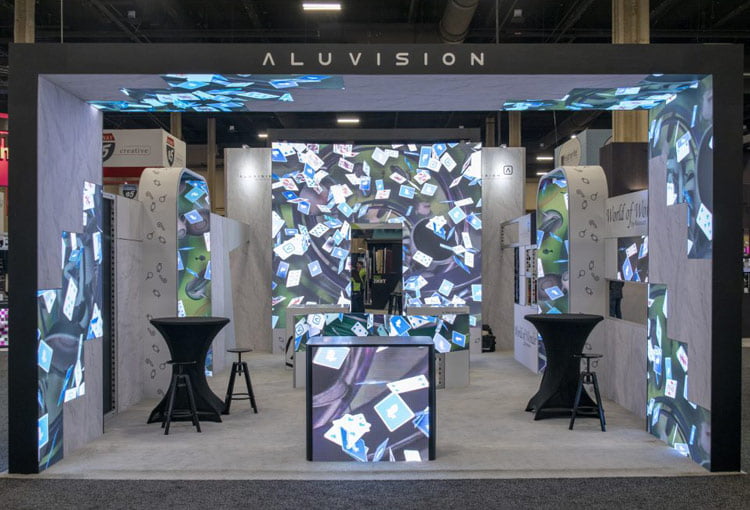 What Our Happy Clients Say
Norkem
The stand was very well received and we got a lot of positive feedback which was great news. The director of ChemUK voted it the best stand of the show which we were incredibly pleased to hear so please pass on our thanks to all involved.
Quinn Building Products
I just wanted to say a massive thank-you for your help with the creation of our stand! We were very pleased with the way it turned out and the professionalism and support we got from you all when we were working on the design of it.
Citizens Advice Bureau
We have ordered several stands and additional display materials from Plus Exhibition Stands over the years, we always receive prompt, efficient and professional service with every effort made to meet our requirements and a lot of the time urgent deadlines! I cannot recommend them enough.
MTI Aviation
More than just accommodating us within a restricted time span, your teams professionalism and eye to detail was outstanding throughout.
Needless to say, we look forward with confidence to working with you more in the future.
Acacium Group
We just wanted to a big say thank you for all of you support with managing our event stand at the AGM conference again this year. It came together perfectly, and the service you and your team provide made the whole experience so seamless. It was a very successful conference, and our display was definitely a standout.
Our friendly team is here to discuss all your current and future exhibition stand design and build needs. Contact us today!