5 Reasons to Exhibit at a Trade Show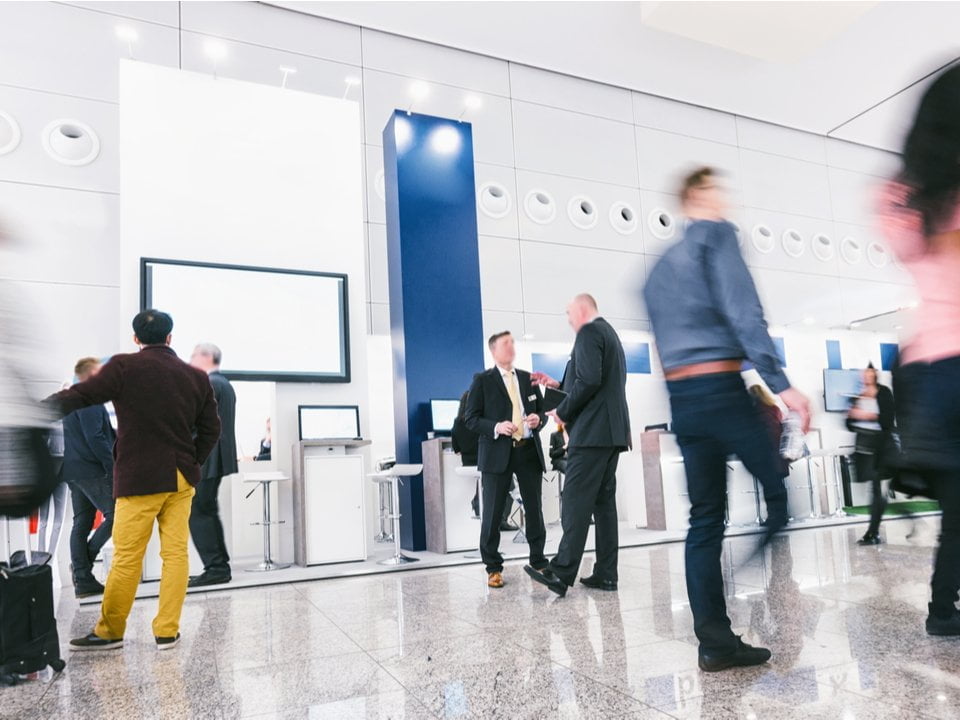 Although online stores are a dominant force in the modern business world, trade show exhibits are still a vital and highly beneficial platform for companies and entrepreneurs.
Although the world is at a standstill due to the coronavirus, as time goes on and things return to normal, events and trade shows will begin to pick up again. The internet and its range of digital platforms are essential for running a successful business, but face-to-face interaction with customers and marketing at trade show exhibits are still effective ways for both small and large enterprises to excel.
In this post, we'll take a look at a few reasons your business should exhibit at a trade show.
1. Increase Sales and Leads
The most obvious benefit of a trade event exhibit is that it can deliver sales at the event and generate leads that can be followed up. Consumers who attend trade shows do so because they have an interest in specific companies, products or services. Your potential customers — qualified individuals interested in what you have to offer — are coming to you, not the other way around. This is a vital opportunity to generate new business leads and continue the growth of your company, but in-depth research into your audience and applying a relevant marketing strategy are crucial.
2. Establish What Works for Your Brand (and What Doesn't)
From time-to-time, there will always be products and marketing ideas that don't resonate with your audience as well as you would have hoped. It's important to realise that this isn't the end of the world but that recognising such instances can strengthen your brand. Trade show exhibits are perfect for testing the waters with new ideas and branding techniques that you have in mind but aren't ready to fully invest in yet. The response you get from a broad audience will give you an inkling into what could be effective for future projects, as well as how you can tweak ideas that aren't a good fit.
3. Explore Exhibition Stand Ideas
Trade shows are competitive, and the style and quality of your exhibition stand can be the deciding factor between making a sale and losing out to your competitors. But you can use trade shows as opportunities to explore exhibition stand ideas. This not only helps you to establish what is most effective at attracting attention and engaging your audience but also what style of design is best suited to the types of features you want to include (such as displays and audio, etc.).
From here, you will have a clearer understanding of how to approach future exhibition stands for trade shows. If you have any ideas or queries about exhibition stands for an upcoming trade show exhibit, don't hesitate to contact our team.
4. Speak Directly to Your Customers
One of the most significant ways businesses benefit from social media is that it gives them a direct line to their customers, but with trade shows, you can have a face-to-face conversation with the people who use your products and services. While, first and foremost, this offers a fantastic chance to deliver a more intimate and charismatic sales experience, it also allows you to get first-hand feedback. This is crucial for developing new strategies, content and products in the future. A trade show can also be a fantastic team-building activity for your employees and help them enhance — or test out — their sales skills.
5. Increase Brand Awareness
Brand awareness is a critical part of success in the modern business world. If consumers are unaware of your company, why and how are they meant to buy what you are selling? While you can increase brand awareness online via your website and social media, trade shows allow you to tap into another form of marketing and retail strategy. Your competitors will be attending trade shows and attracting new customers, so by neglecting to do so yourself, you are missing out on the opportunity to expose your business to a wider audience.
If you're planning an upcoming event, need some advice or have any questions, speak to one of our friendly team today to see how we can help you.