The Oceandiva
UK's First Water Based Co2 Neutral Venue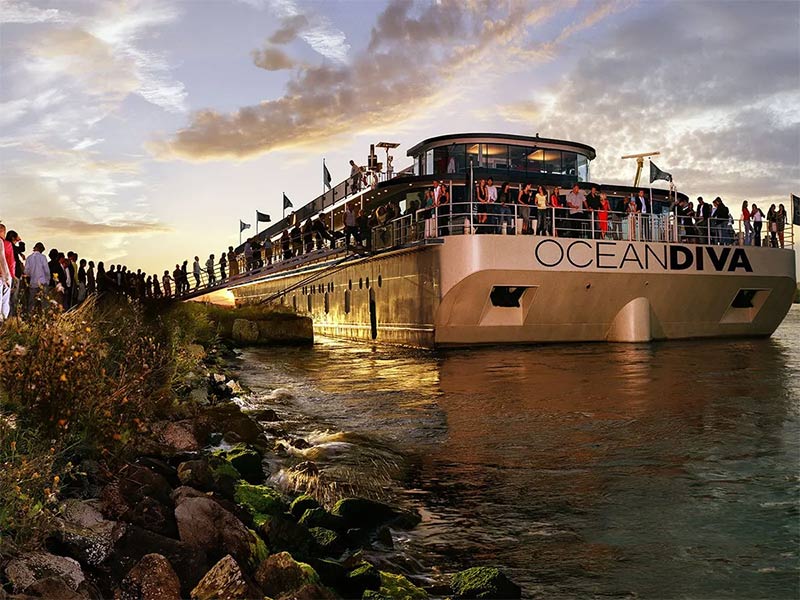 The Launch of the Stunning Oceandiva London
Are you ready for a game-changing new events venue in London?
Launching in autumn 2022, Oceandiva London is about to make waves as the UK's first water-based venue that's completely carbon neutral. Floating events venues are already established as a popular option but this one delivers more in terms of the scale of events and its sustainability. This is big news for the events and exhibitions business, offering the capital, and the whole country, a dynamic new way to host events.
What is Oceandiva London?
Oceandiva London is a brand new floating events venue poised to launch in the autumn. It certainly has the wow factor – this multipurpose vessel is set to be the largest floating event space on the Thames, paving the way for bigger and better events and conferences on the river. The venue will cruise throughout the city and can pick up passengers at London Bridge, Canary Wharf, Tower Bridge, Greenwich, or ExCeL London.
With three decks and measuring 86m long and 17m wide, Oceandiva is a sophisticated venue for a broad range of events with a maximum capacity of 1,500 people. The London venue is Oceandiva's first venture outside of mainland Europe, introducing something truly revolutionary to the UK's events and exhibitions industry. If you're hosting a gala dinner, fundraiser, awards ceremony, product launch, or reception, this is a venue to keep an eye on.
The Future for Events
The launch of Oceandiva promises a new generation of impressive floating events in the capital. Its design and technological capabilities make it possible to bring the host's vision to life. The vessel acts as a blank canvas that can be customised to the finest detail. Heating, air conditioning, advanced wastewater systems, and onboard safety features are designed to help even the most elaborate events to run smoothly.
Dazzling events will be enhanced further with Oceandiva's catering services. Partnering with leading caterer Moving Venue means there's even greater flexibility for holding events and receptions. From cocktail evenings to gala meals, events on Oceandiva can be catered in a range of ways. The focus on sustainability is present in the catering options too – the chef team use seasonal and local produce as far as possible.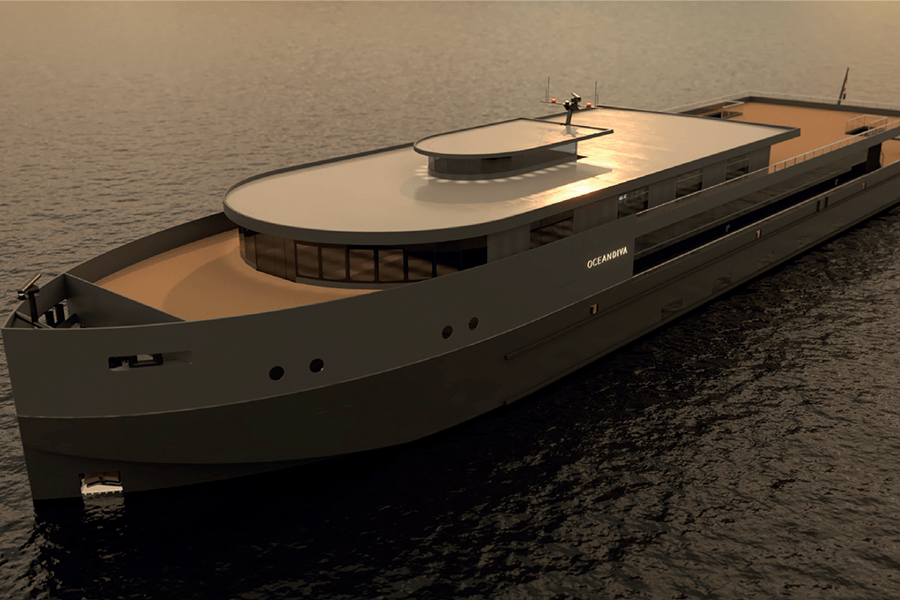 Sustainability for the industry
It's not just the vessel's impressive size and functionality that's creating anticipation for the launch of Oceandiva London. Its sustainability credentials are also making an impact. The vessel is using cutting-edge technology as well as best-practice expertise to be an industry leader in reducing its impact on the environment.
Oceandiva is 100% carbon neutral and is also equipped with high-quality soundproofing and electric engines that reduce noise, limiting noise pollution from its operations. The vessel is powered entirely by renewable energy. This is provided by rapid charging green electricity on the shore. Oceandiva London also has onboard solar panels and a biofuel generator for back-up. These qualities are likely to make it a desirable venue for organisations that want to hold ambitious events but are conscious about their environmental impact.
Evolution of events in London
The events and exhibitions industry is continually evolving and the launch of Oceandiva London later in the year marks a significant development. Thames-based floating events are set to get bigger and even more vibrant, whilst also offering clients a way to lower the impact that such events have. If Oceandiva can lead the events industry in London, this might become a more widespread development.
If you're looking for custom exhibition stands for events and conferences, Plus Exhibition can help with a bespoke solution. Get in touch to find out more.